Promoter Spotlight: The Original Wedding Expo is New England's Premier Bridal Show
When Robert Chevalier says The Original Wedding Expo is a family business, he means it. Robert's parents Richard and Germaine launched  the company with The Original Wedding Expo in 1979. Bride & Groom Magazine, a popular wedding planning resource, followed two years later in 1981. Since then, the Chevalier family have been helping connect Central New England wedding vendors with the brides who need their services.
Robert's family doesn't end with his actual family members, many of whom are involved in the company, or with his staffers – it's extends to the vendors and wedding professionals who are invited to The Original Wedding Expo. It's a relationship that in many cases has spanned years, and Robert makes sure that his vendors understand the value and the potential of setting up a booth at his bridal show. "We're hands on," Robert says. "We are truly invested in their success."
What does this mean for the brides who attend The Original Wedding Expo? It means brides will meet enthusiastic, helpful wedding professionals who are geared to offer show specials, prizes, and discounts. Vendors, helped along by Robert and crew, create exciting exhibits to entice brides and showcase their own services.  And because the show hosts vendors from every planning category – from invitations to dresses, from flowers to food – brides can book most of the services they need for a wedding on the spot.
Of course, not every bride who attends The Original Wedding Expo is ready to buy. The show offers plenty of ideas for the dreamy bride who's still considering all of her choices. Bakers will have cakes to taste, florists will have examples of arrangements, and dress vendors will have racks and racks of the latest trends in wedding dresses. "We encourage vendors to build beautiful exhibits and really put their best foot forward," says Robert. "Brides can walk out with really great deals or really great ideas."
One of the inspirational center pieces of The Original Wedding Expo is a high-energy, professionally produced fashion show. Many bridal shows feature a fashion show, but here brides can try on the trendy dress they just admired on the runway, and purchase it right there – often at deep discounts. There's also displays and special show discounts for the grooms and groomsmen as well. But don't just take my word for it… watch the show videos on The Original Wedding Expo's YouTube channel.
(Photos courtesy of
Paul S. Robinson Photography
)
The Original Wedding Expo happens 7 times a year in the Spring, Fall, and Winter throughout Central New England. In between show dates, brides can still take advantage of what the Expo has to offer through Bride &  Groom Magazine, a wedding planning staple in Massachusetts and Rhode Island. This free magazine features the best local wedding vendors, many of the same professionals from the Expo, and helpful tips for wedding planning.
"At its heart, wedding planning is local," says Robert. "As more national magazines close, locally focused magazines like Bride & Groom become more and more important." To help local brides with wedding planning, Bride & Groom offers planning tips, engagement announcements, and a regular "Nearby Nuptials" feature of real wedding content from local couples on their wedding day. Bride & Groom is distributed at 250 points in the local area and is also available online. kick off your wedding planning with the latest online issue, viewable here.
The Original Wedding Expo is an absolute must-do for any Central New England bride. But as Robert notes, The Original Wedding Expo wants to see the partners as well. Bridal show attendance is trending toward larger parties, including many same sex couples, but because so much of the planning and booking can be done at the show, Robert encourages brides to bring along all the decision makers. "More and more we're seeing brides, plus 3. A lot of brides bring the mom, the mother-in-law, and the maid of honor. We really want to see more grooms and partners coming along as well." If you're having trouble talking your partner into attending bridal shows, the fun and exciting Original Wedding Expo is an excellent place to start!
For more information about The Original Wedding Expo and Bride & Groom Magazine, to view a the schedule of upcoming Expos, and to buy tickets visit www.originalweddingexpo.com.
And to see how much fun The Original Wedding Expo is, check out this video from the latest Expo!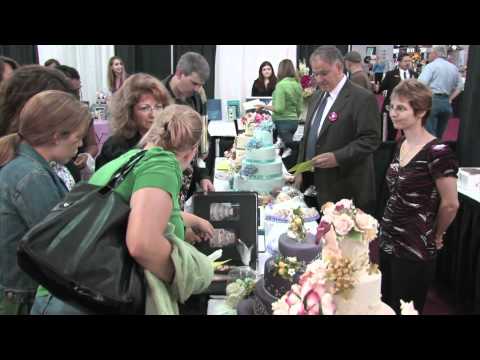 All photos courtesy of Paul S. Robinson Photography
-